Work Report of Wanda Group in 2016
Jan 16,2017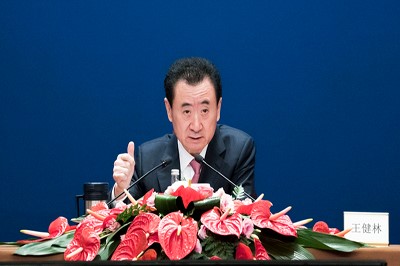 Work Summary of Wanda Group in 2016
January 14, 2017
To begin with, I wish to, on behalf of the Board of Directors of Wanda Group, express a warm welcome to all of you present here at Wanda Group's 2016 annual meeting at Hefei Wanda City! The year 2016 was a crucial year in Wanda's transformation and saw the Group make major progress in diverse aspects including expansion in emerging industries, application of high technologies and business internationalization. In a year that also saw the country's real estate market continue its upward climb, Wanda Group made the bold and surprising move to adjust down RMB 60 billion in real estate revenue to resolutely advance its transformation agenda, something that no other enterprise in China is capable of doing. In 2016, under the leadership of the Board of Directors, and under the concerted efforts of the management headed by Mr. Ding and the entire staff, we excellently accomplished all tasks set for the year. Here I will summarize our work in 2016 from two aspects:
I. OPERATING HIGHLIGHTS IN 2016
(I) All Tasks for the Year Accomplished
In 2016, the Group's assets reached RMB 796.1 billion, up 21.4% y/y (using the cost method). Its operating revenue reached RMB 254.98 billion, or 103.2% of target, up 3.4%. In terms of revenues from real estate contracts, the Group's revenue decreased by 13.9% y/y, mainly due to a downside adjustment of RMB 60 billion in real estate sales revenue. Beginning this year, Wanda will only measure operating revenue because transformation is not only about business and strategy but it should also be reflected in accounting. While Wanda's operating revenue did not increase significantly, and indeed its contract revenue experienced a decrease, its net profit posted an impressive two-digit growth.
Dalian Wanda Commercial Properties achieved RMB 143.02 billion in revenue, or 100.4% of target, maintaining a positive y/y growth in net profit in spite of a 25% y/y decrease in revenue. Increased net profit achieved at a decrease in total revenue by one fourth means a significant improvement in the quality of revenue. Dalian Wanda Commercial Properties achieved RMB 112.27 billion in revenue from real estate, or 100% of target, and RMB 19.58 billion in rent receipts, or 102.3% of target, up 29.6% y/y, with its rent collection rate reaching 99.99%. Why it was not 100% is because one rent receivable in the amount of RMB 160,000 did not arrive until January 2, 2017 and barring the two days in delay, we would have achieved a rent collection rate of 100% for four consecutive years. Of course, while it was a tiny regret, a 99.99% rent collection rate is already satisfactory enough. Dalian Wanda Commercial Properties has set the world record of maintaining a collection rate of more than 99.5% for 11 consecutive
(II) Business Transformation Basically Completed
1. Services contributed more revenue and profit than real estate. In 2016, services contributed 55% of the Group's total revenue, surpassing the real estate business for the first time, and the net profit (unaudited) from services in the year was also greater than that from the real estate business. Wanda has accomplished its preliminary goal of transformation one year in advance. Therefore, 2016 was a critical year of landmark significance to Wanda. While the real estate revenue of Dalian Wanda Commercial Properties, Wanda Group's core enterprise undergoing transformation, still exceeds the revenue from its other operations such as property lease, property lease has taken up approximately 55% of its net profit, according to estimates. In other words, non-real estate operations including property lease have surpassed real estate development in profit generation of Dalian Wanda Commercial Properties which, so to speak, is no longer a real estate enterprise. Therefore, I have suggested several times about renaming Dalian Wanda Commercial Properties in late 2017 or 2018 as a commercial investment management service group, no longer positioned as a real estate developer.
2. Wanda has succeeded in its shift to the asset-light strategy. Of the 50 Wanda Plazas opened in 2016, 21 were asset-light projects. In the fourth quarter of 2016, Dalian Wanda Commercial Properties signed contracts with companies including China CITIC Bank, China Minsheng Trust and R&F Properties over approximately 90 Wanda Plazas with a combined value of RMB 105 billion. From 2017 to 2019, Wanda will deliver 30 Wanda Plazas to investors every year and share net rent revenues with them. As Wanda operates a sophisticated IT based management system, the management expenses account only less than 20% of rent, and with tax payments being set aside, all the rest is net rent. We call Wanda Plazas operated in this asset-light model "investment-category Wanda Plazas", where investors place orders with us and we are responsible for land securement, construction, merchant recruitment and operation. Even more encouragingly, in 2016 we have developed a new asset-light format called "collaboration-category Wanda Plazas", where investors provide both land and funds and Wanda is responsible for design, construction advice, merchant recruitment and operation, with the investor and Wanda sharing the net rent on a 70/30 basis.
However, we don't do all projects offered to us but are selective according to our own criteria before commencing the projects going through the entire process from design and construction guidance to merchant recruitment and operation. Be it design, construction supervision or merchant recruitment, all related costs are borne by investors. The collaboration-category Wanda Plaza model is arguably the highest form of Wanda's asset-light model, where not only the capitalization part is omitted but the issue related to collectively owned land is satisfactorily solved. China's land is divided by ownership into state-owned land and collectively owned land. State-owned land is tradable in the market with an ownership certificate and collectively owned land neither is tradable nor have an ownership certificate. However, because of the country's rapid urbanization, a lot of collectively owned land which was in rural areas three decades ago is now part of Beijing's urban area. In Shenzhen, there are still many villages with their land being collectively owned. Municipal governments usually allocate a plot of land acquired from farmer relocation for development of industries, which is mostly used for commercial projects. Under Wanda's previous asset-heavy property development model, we steered clear of such projects using collectively owned land because they do not have ownership certificates and cannot be included in the balance sheet. But on the other hand, some collectively owned land parcels are favourably located. For example, we developed a Wanda Plaza within the Second-Ring Road of Beijing on a parcel of land that has been idle for more than ten years because of failure of the villagers to reach an agreement as how should it be developed. The Wanda Plaza project, however, was approved with more than 90% of the villagers giving the nod. This collaborative model which offers multi-fold benefits such as sharing rent, omitting capitalization and solving the collectively owned land issue, represents a major innovation of Dalian Wanda Commercial Properties.
Years ago, I made the observation that the highest form of business operation should be like the art of "empty hand fighting". However, this is not the same thing as catching a white wolf with bare hands; instead, it means that with a strong brand and unique expertise, you will be approached for cooperation and making money together, where your brand is your main asset. An example is a hotel management brand that manages your properties for a fee and makes money regardless of whether or not you make a profit from the properties. There are many other forms of the "empty hand art" in the world, but it is very difficult to establish one. In 2016, Dalian Wanda Commercial Properties made a major breakthrough in the development of collaboration-category Wanda Plazas. Compared to 2015 when it only signed one such project, in 2016 it not only signed 18 but put one into operation, i.e. the favourably located Huaifang Wanda Plaza in Fengtai District in Beijing which has performed strongly since opening. We will open five collaboration-category Wanda Plazas in 2017 and approximately 20 every year from 2018.
3. Wanda has achieved strong growth in emerging industries. In spite of a 25% decrease in revenues from the real estate business, Wanda Group maintained a positive revenue growth, driven by strong growth in emerging industries such as culture and network. Wanda has enjoyed a strong momentum with encouraging outlook in the emerging industries, with quite a few operations that stand in a class of their own, such as Wanda Network Technology that is the only "real economy + Internet" enterprise in China. Wanda Sports has developed a few self-owned sports events that have no competitor in China. According to optimistic estimates, Wanda Cultural Industry Group will reach a scale of RMB 100 billion in 2018. In fact, if the travel agency business had not been stripped, Wanda Cultural Industry Group would have been close to the RMB 100 billion mark this year.
4. Rent revenue has increased substantially. Regardless of a decrease in total revenue, Dalian Wanda Commercial Properties achieved a positive growth in net profit, driven prominently by a 30% increase in rent revenue, among other factors.
(III) Cultural Industry Becoming a Pillar
The cultural industry, which contributed more than one fourth of Wanda Group's revenue in 2016, has become Wanda's pillar industry.
1. Movie industry: In 2016, Wanda opened 677 movie theaters worldwide with a total of 6,788 screens in 2016, including 154 movie theaters in China with a total of 1,391 screens. It took Wanda Cinema Line ten years to bring your movie theater screens to 2,100, but 2016 alone it added 1,400 screens. This extraordinary growth will have its power unleashed and felt this year. Currently, Wanda operates 1,352 movie theaters worldwide with 14,347 screens, taking up approximately 12% of the global box office market. In 2016, members of Wanda's movie membership scheme increased by nearly 43 million worldwide, including 38 million in China. In 2016, Wanda acquired not only U.S. film studio Legendary Entertainment for USD 3.5 billion but also Carmike Cinemas Inc. in the U.S., Odeon & UCI in Europe and a number of cinema lines and Mtime in China.
Wanda now ranks first in the world's top three office box markets — Europe, North America, and China. We have established the first multinational cinema line group in the history of movie industry, with all previous cinema lines operating regionally. When Wanda announced its acquisition of AMC, an eminent professor published an article more than 3,000 words long claiming that the transaction was doomed to be a failure, arguing that in human history there had not been a single multinational cinema line and questioning what Wanda, a real estate developer, had got to make it a success. The reasoning is obviously silly because if things that were not present in the past will not appear in the future, then humans would not have had such things as cars, aircraft or five-star hotels! That's why some experts are called "block-experts" because of their blockheaded impractical ideas.
Here I wish to give particular praise to AMC's CEO Adam M. Aron, who led Wanda's acquisition of Carmike Cinemas Inc. and Odeon & UCI in collaboration Wanda Cultural Industry Group's overseas division and AMC's management team. The two acquisitions completed in the matter of one year has firmly established AMC's status as the No. 1 cinema line in the U.S., in Europe and worldwide. More importantly, he not only successfully completed the acquisitions but also saved hundreds of millions of dollars in the Group-approved budget. Therefore, the Group has decided to give big rewards to Adam M. Aron and his team. I said jokingly that if Wanda had five Adams M. Aron, I could retire instantly, because with five persons like him steering the Group and effectively implementing its agendas, it would grow and develop truly unstoppably, and I wouldn't need to go to work. It also merits mentioning that "Spotlight" produced by AMC's subsidiary won Oscar awards "Best Picture" and "Best Original Screenplay" last year, making history. In 2016, Qingdao Oriental Movie Metropolis held an investor fair in Los Angeles, where it signed 11 Hollywood movies.
2. Sports industry: The year 2016 was an exciting year for Wanda Sports, which saw the company, besides existing exclusive cooperation with eight international sports organizations such as FIFA and International Skating Union (ISU), sign a global top-level sponsorship agreement with FIFA, becoming the only Chinese top-level sponsor of FIFA and one of the top-level sponsors of FIFA worldwide. In addition, Wanda Sports signed exclusive commercial development agreements with International Basketball Federation (FIBA) and Badminton World Federation (BWF) and an exclusive cooperation agreement with Union Cycliste Internationale (UCI) over a WorldTour race in China. In 2016, Wanda Sports successfully organized a series of sports events, including Tour of Guangxi, BMX and China Cup International Football Championship, and Ironman Triathlon events in Hefei and Xiamen. All of the events were organized in world-class quality, as assessed by Infront Sports & Media that I specifically consulted. The success of the these events has laid a solid foundation for Wanda Sports to organize more future sports events, especially self-owned events.
3. Tourism industry: In 2016, we opened two Wanda Cities in Nanchang and Hefei, which caused a big stir internationally, and thir success has promoted us to take Wanda Cities overseas. Hefei Wanda City and Nanchang Wanda City became the top two tourist destinations the National Day holiday last year, with Hefei Wanda City receiving more than one million visitors and Nanchang Wanda City receiving nearly 90 visitors during the seven-day holiday. Last year saw a national network of Wanda Cities take shape, with agreements signed for three Wanda Cities in Changsha, Xi'an and Haikou and two breaking ground in Guilin and Chongqing. In 2016, Wanda Hotels & Resorts signed new management agreements with ten non-Wanda five-star hotels, marking that Wanda's brand in hotel management has been firmly established and is taking off.
(IV) Wanda Network Technology Group established
1. In 2016, FFan clearly defined its strategic positioning as the only large-scale open commerce platform that integrates "Real Economy + Internet" in China. The Group approved FFan's development plan between 2017 and 2019 and its five-year budget plan. According to the development plan, Ffan will aim to turn a profit in 2018 and achieve a profit of RMB 10 billion and go public by 2020.
2. In 2016, Ffan enjoyed an explosive member growth, with active members reaching 150 million and Ffan Express members reaching 82.84 million. Meanwhile, it signed 1,799 large commercial centers, 100,000 medium and small merchants, 3,600 movie theaters, 410 large hospitals and 2,200 upscale hotels. And it entered into cooperation with 30 cities including Beijing, Shanghai, Guangzhou and Shenzhen on smart city and local service and other initiatives, and developed two "Shiny City" demonstration projects in Suzhou and Xian, showing a strong momentum of business growth.
3. In 2016, Ffan demonstrated its great power in driving the development of the real economy. It organized 11 large campaigns which effectively promoted its brand, especially the "June 18 Mid-Year Celebration" and "Double 11 Shopping Spree", which united nearly 10,000 merchants in the largest ever marketing events of physical retailers in China and delivered RMB 56 billion in sales, with more than 50% of participating merchants achieving a double-digit increase in sales. The campaigns convincingly demonstrated that Ffan can play an effective role in promoting physical retail and deliver win-win and is not positioned to undermine or elbow out physical retailers. Here I want to note that while the sales turnover of RMB 56 billion looks not particularly striking, we at least have two things to be proud of: all sales were real sales, and there were few returns.
4. In 2016, Ffan held the FFAN Commercial Expo, renamed in September from Wanda Group Annual Commercial Convention. The event was attended by 45,000 participants representing more than 8,000 brands and 3,000 members, setting multiple records in China's commercial expo industry and becoming a veritable industry fair in its own right.
(V) Internationalization Picking up Speed
1. Achievements were impressive. The year 2016 saw Wanda carry out the greatest number of overseas acquisitions in its history. The acquisition of a dozen of companies significantly expanded Wanda's business scale and net profit.
2. Overseas operations performed strongly. Under the leadership of CEO Adam M. Aron and his management team, AMC achieved a substantial increase in profit in 2016. While I cannot disclose detailed figures as it is a listed company, I can say that its growth last year was substantial and rarely seen in the U.S. Its strong performance has been reflected in its share price, which almost doubled in last year. Australia's Hoyts Group that Wanda recently acquired also delivered a remarkable increase in revenue and, in particular, exceeded the net profit target by 30%. Other acquisitions including Infront Sports & Media and World Triathlon Corporation also achieved impressive growth. Some say that what Wanda has been doing is just buy and buy and buy, but I don't think buying is a simple thing, because you need to buy the right things at the right prices and manage them well and keep them growing. AMC, for example, has been growing every year over the five years since our acquisition of it.
3. Projects were signed in India and Paris. The India project is not only grand in scale but more importantly it will create 150,000 jobs and increase India's urbanization and tourism to a world-class level. The Paris project is the largest tourism project in Europe and will create more than 13,000 jobs.
4. Wanda's hotel management brand went international. Through ten years' development, Wanda Hotels & Resorts has built a clear leadership in China's hotel management market. According to data, leading hotels in terms of revenue in approximately half of China's top 50 cites are Wanda hotels rather than hotels managed by foreign brands. Although Wanda started taking its hotel management service overseas recently, it signed in last year six Wanda Vista hotels overseas in major cities such as London, NYC, Los Angeles and Sydney, including one non-Wanda property. This shows that Wanda Hotels & Resorts has been on its way to go beyond China and expand globally. In a few years when Wanda Vista hotels reach 10 overseas and 100 in China, Wanda Hotels & Resorts will have been firmly established as a global hotel management brand. Our existing overseas hotels are still significantly behind local hotels in terms of location, class and facilities.
(VI) Wanda Gaining Influence as a Global Brand
1. Export of cultural brand: Last year, Wanda signed two "Wanda City" projects overseas, with other projects being under negotiation, marking the first export of a major Chinese cultural brand and establishing Wanda as the fourth global cultural brand after Disney, Universal Studios and Ocean Park. Wanda is also the first Chinese enterprise to export its cultural brand. This is Wanda's soft power.
2. Global publication of The Wanda Way: The Wanda Way was published globally last year in four languages, becoming the first management book by a Chinese entrepreneur to be published globally and making history in China's business world. With 1.06 million copies in print in China and 210,000 copies in print overseas, The Wanda Way has set a publication record of management books in both markets and has been used as a case study book at world-famous universities such as Harvard, Oxford and Yale or collected in their libraries, again making history and marking the internationalization of Chinese management ideas.
3. Wide coverage in overseas media: Coverage of Wanda in overseas media tripled y/y, with the overwhelming majority being positive. Videos featuring our speeches and activities at University of Oxford and Hollywood received over 100 million views. Qingdao Oriental Movie Metropolis' investor fair at the Hollywood caused a stir in the U.S. and around the world and was given wide coverage by U.S. media including almost all major newspapers, major TV channels and social media platforms, in a total of more than 1,100 U.S. media articles, making history still again.
(VII) Commitment to Corporate Social Responsibility
1. Job creation: In 2016, Wanda added 203,000 full-time service jobs, accounting for 1.5% of the total jobs added in China in the service sector, with new recruits including 85,000 college graduates, or 1.2% of graduates with secured jobs across China. Both figures are astonishing. The jobs we created were not fabricated but counted from our physical stores. In 2016, Wanda supported 22 groups of graduate-initiated startup teams, marking the third year of our graduate entrepreneur program that has achieved a success rate of more than 95%.
2. Charity: In 2016, Wanda donated RMB 450 million in cash. Besides, Wanda launched a RMB 1.4 billion poverty relief program in Danzhai County in Guizhou, with initiatives including a vocational college, a tourism town, and a poverty relief fund. We launched the program after careful research over one year, rather than in a hurry. The three initiatives correspond to long-term, medium-term and short-term poverty relief objectives, with the vocational school having the long future in mind, the tourism town providing jobs to farmer-turned urban residents, and the poverty relief fund providing direct support to particularly vulnerable groups such as seniors of no family and people with disability who cannot benefit from poverty relief-oriented industry policies. In 2016, Danzhai County shook off poverty as a whole, two years earlier than target, and poverty was got rid of from the root. This innovative poverty relief model earned Wanda China's first national award for innovation in poverty relief.
3. Tax payment: In 2016, Wanda paid RMB 31.75 billion in taxes.
4. Environmental protection: In 2016, 89 Wanda Plazas received the "National Green Building Design" label, 25 Wanda Plazas received the "Green Building Operation" label and 15 Wanda hotels were recognized as "Green Hotel".
5. Volunteerism: In 2016, Wanda Group organized a total of 2,614 volunteer activities attended by 108,700 people, including a nationally coordinated volunteer event that was particularly successful.
In 2016, Wada attained huge achievements, though it still faced various issues, including the failure of some companies to meet their targets. While they did not hinder the Group as a whole, it is regrettable that for their sake the Group did not post shiny results across the board. Other issues included management loopholes, irregularities and wastefulness. To sum up, achievements were great, but problems were still present, and Wanda remains on the climb. Wanda's transformation has been basically completed and when one day I announce that Wanda's transformation is comprehensively completed, it will be my time of retirement. Of course, even when I retire, I will not be at rest like a leisurely indoorsman, which is not quite likely. After retirement, I may attend the board meeting once a month, and will spend more time doing other meaningful things.
II. MAIN TASKS IN 2017
(I) Main Operational Targets
Wanda Group's targets for 2017 are RMB 900 billion in total assets and RMB 265.8 billion in operating revenue. It needs to noted that as Wanda's travel agency company is to be merged into ly.com in the first half of 2017, so the operating revenue target does not include the RMB 20 billion from the travel agency business; otherwise the target would be more than RMB 280 billion.
Dalian Wanda Commercial Properties' revenue target for 2017 is RMB 148.6 billion, including RMB 112.19 billion in real estate revenue. It will open 50 Wanda Plazas, two Wanda Malls and four hotels in 2017. In rent revenue, Dalian Wanda Commercial Properties has maintained a high average y/y growth of 30% for several years, creating, so to speak, a miracle in the real estate industry of the world. In this respect, I set a small target for Dalian Wanda Commercial Properties: maintain an average rent revenue growth of 25% from 2017 to 2025. If this target is accomplished, it will not just be a matter of setting a world record, but will take Dalian Wanda Commercial Properties' capitalization to stunning levels. We don't have to wait till 2025; it just needs another five or six years and we will see profit from real estate sales account for only a tiny share of Dalian Wanda Commercial Properties' revenue. After the shift to the asset-light strategy, the value of rent revenue will further increase. For our asset-heavy operations, for every RMB 1 of rent, we get only RMB 0.4 in net profit, which is still subject to a 17.55% enterprise income tax. In contrast, under the asset-light model, the rent revenue is only subject to a 25% enterprise income tax, with all the rest being net profit. Therefore, rent revenue will feature more prominently in Dalian Wanda Commercial Properties' revenue.
Wanda Cultural Industry Group's revenue target for 2017 is RMB 69.93 billion, which is broken down as follows:
Movie industry: RMB 58.9 billion in revenue, adding 2,000 screens worldwide, including 1,200 in China.
Sports industry: RMB 6.9 billion in revenue.
Tourism industry: RMB 2 billion in revenue, significantly lower than the target for 2016 because the travel agency business is stripped and the rent revenue of Dalian Wanda Commercial Properties is not included.
Children's entertainment: RMB 1.53 billion.
Wanda Network Technology Group: RMB 6.5 billion in revenue.
Wanda Financial Group: RMB 26.5 billion in revenue.
(II) Continue Expansion in the Cultural Industry
1. Movie industry: First, we will continue to expand our market share and aim to increase our share in the global movie projection market to 20% by 2020. When I put forward this goal four years ago, many people were doubtful about its achievability, but we currently already stand at 12% and only eight percentage points away from the goal. We will keep up our good work towards the accomplishment of this goal. Secondly, we will give full scope to our advantage of having operations along the entire industry chain to improve our overall performance and increase our net profit in the movie industry to RMB 10 billion by 2020. Thirdly, we will strive to become a global leader in movie production, distribution and projection. Fourthly, we will strive to complete the construction of Oriental Movie Metropolis in advance this year and put some components into trial operation first. Fifthly, we will explore the possibility of distributing movies globally. This statement contains modifiers — "explore the possibility of global distribution". In other words, we have the intention of doing this thing, but need to research how to proceed with it. Movie studios are numbered in the tens of thousands worldwide, but only six Hollywood studios have the ability to distribute movies globally. These six studios we call "the big six", and we call them "big" exactly in the sense of their ability to distribute movies globally. If by 2020 when Wanda has a 20% share of the global movie projection market it is still unable to distribute movies globally, it will mean that Wanda lacks core competitiveness in the movie industry. Therefore, we need to discuss this issue now. If we establish our ability of global distribution, we can take not only Wanda movies but all Chinese movies to the world.
2. IP product company: Intellectual property is a weakness of Wanda in the cultural industry where we must catch up. There is a view that although Wanda invests heavily and develops projects fast in tourism, it lacks intellectual properties. But this is only natural, for we have been around in the tourism industry only a few years, and it takes time to build its intellectual property portfolio. The handful of century-old movie studios have thousands of major intellectual properties, which have been created and accumulated in the course of time. In the cultural industry, the first thing for Wanda to do is grow its business scale and revenue, and the accumulation of intellectual properties will be a longer gradual process. Those who are not in this business would not understand this basic concept. How will we catch up in intellectual property then? In this respect, we will walk on two legs — R&D and purchase. Purchases are not necessarily of intellectual property companies but can be of individual properties, which are put under the centralized management of an intellectual property company. This task has been assigned to Zhang Lin and Gao Qunyao of Wanda Cultural Industry Group. The entire Wanda Group will only have one intellectual property company and put the Group's intellectual properties under centralized management rather than have them scattered across its various member companies in children's entertainment, theme entertainment and movie and TV production.
3. Self-owned sports events: There is an essential difference in terms of risk between organizing owned and un-owned sports events. Of course, at a time we lack owned events, we need to work on organizing un-owned events as well as developing owned events. One task I set for Wanda Sports in 2017 is to develop one owned sports event, sign two new un-owned international events, and enter into commercial cooperation with a new international sports organization.
4. Investment in tourism: In 2017, we plan to break ground for six Wanda City projects, open Harbin Wanda City, and sign contracts for approximately three Wanda City projects, including two developed in the asset-light model. Meanwhile, we will operate well existing projects already opened, especially the operations of Harbin Wanda City. We do I single out Harbin Wanda City? Because the Northeast region has been rather economically difficult in recent years and Harbin is located in the northernmost part of China. The project itself is strongly positioned, being located in the urban area and having the world's largest indoor skiing center, but its operation is expected to be not easy. In 2017, we should make sure to meet the operational targets for all our cultural and tourism projects not only as they relate to Wanda Cultural Industry Group as well as to the theme entertainment company.
(III) Accelerate Transformation of Dalian Wanda Commercial Properties
Dalian Wanda Commercial Properties features prominently in Wanda Group's transformation agenda, and it should strive to complete its transformation into a commercial service company in 2018, two years in advance.
1. We will gradually reduce investment in real estate. In 2017, we will open 50 Wanda Plazas, including 11 asset-heavy projects and 39 asset-light projects. Beginning 2018, asset-heavy projects opened in each year should be reduced to approximately five until 2020 from which time, in principle, no asset-heavy project will be developed and all projects will be asset-light ones. Except residential properties developed as part of Wanda City projects, we will, in principle, will not develop new residential projects. After the completion of all Wanda City projects, Dalian Wanda Commercial Properties will gradually exit from the real estate development industry. Dalian Wanda Commercial Properties will prove that it can be more valuable without being a real estate developer. In fact, the market has given the answer: Compared to a P/E ratio of real estate developers that is generally approximately 10, commercial property companies often have a P/E ratio of 30 or even 40.
2. We will push ahead with our asset-light strategy. Wanda's decision to exit real estate development is not because of its bearish take on China's real estate industry but primarily based on two reasons. First, China's real estate development market is too cyclical, to a degree that is, so to speak, rare around the world. I have been in the real estate industry for 28 years, which will be 30 years after two years, and in this period, I have witnessed some ten rounds of market control, which happens around every approximately three years, with no boom lasting for four years or longer. The excessive cyclicality of the industry tends to cause instability of cash flows and frequent changes in market expectation. Secondly, and more importantly, Wanda has bene able to make money through its brand. In the past, we built Wanda Plazas using money earned from selling houses and shops, and now we can make handsome profits just by design and operation. Isn't this a more desirable situation? In terms of revenue generated, two collaboration-category Wanda Plazas, or less than three investment-category Wanda Plazas, are equivalent to one asset-heavy Wanda Plaza. We can achieve the same revenue from 20 asset-heavy Wanda Plazas by developing a greater number of asset-light Wanda Plazas, and with less exposure to risks. Beginning 2017, we will prioritize the collaboration-category format of our asset-light strategy and make sure to sign at least 20 projects every year. If there are more collaboration-category projects to develop, we will reduce the number of investment-category projects, because opening 50 Wanda Plazas a year should be the limit of our capacity.
3. We will increase the percentage of profit in our rent revenue. From now on, Dalian Wanda Commercial Properties will pursue neither increased scale nor, in the transition period, high-speed growth in profit. I don't put much emphasis on revenue and indeed adjusted down RMB 60 billion in sales revenue in 2016. What should we pursue then? We should pursue an increased percentage of profit in our rent revenue. In our property lease business, we aim to increase the percentage of profit in the rent revenue by five percentage points every year from 2017. We get a higher percentage of profit in rent shared from asset-light projects, receiving RMB 0.75 in net profit in every RMB 1 of rent. Therefore, sky is the limit for the growth of the property lease business, but we not only will not increase but will gradually decrease the profit from real estate development. The growth of the property lease business is safe and sustainable without much correlation with housing prices. As long as a building stands there, there are consumers making purchases there. Will the sales in a mall increase by 50% when the housing price increases by 50%, or will the sales decrease by 20% when the housing price decrease by 20%? Of course not. A commercial center is basically stable in business performance. A plaza is the activity center for people living within five kilometers from it.
(IV) Make Breakthrough in Ffan Network
In its first year after establishment, Ffan Network focused on R&D and investor recruitment and did not make much effort in promotion on the operations front. We will strive to make a breakthrough in operations and promotion.
1. Implement the development tasks in 2017. The Group has approved Ffan Network's five-year development plan. The year 2017 will be a crucial year. Why? Because only by completing all the tasks in this year can Ffan Network turn a profit overall next year. Therefore, I often tell you not try to fool me; you can fool anyone, but cannot fool me. They claimed that all revenue and profit targets were exactly calculated. I relied that well, I cut the reported targets by half and you have them as your performance targets. Therefore, we must make sure to accomplish the tasks in this years, because they will lay the foundation for we to make a tenable profit next year. This year's targets will be broken down by week and performance will be evaluated on a weekly basis.
2. Expand the scope of cooperation. In 2017, we aim to sign 2,000 large shopping centers, accounting for more than two thirds of all existing large shopping centers across China, and 150,000 medium and small merchants, covering approximately 70 more small and medium-sized cities.
3. Carry out international cooperation in both technology and capital.
4. Complete Series A private equity financing. We plan to raise RMB 10 billion for Ffan, completing the demonstration projects and valuation report in the first half of this year and commencing the private-equity financing in the third quarter. We will turn to strong investment banks and investors for cooperation rather than confining our search to those in our "circle of friends" and the investors should not be exclusively financial investors. I mentioned Ffan's development goals at the annual meeting — turn a profit next year and generate a profit a more than RMB 10 billion by 2020. It should be not difficult for Ffan to find investors.
(V) Adhere to Internationalization
China's current situation has put forward new requirements for Wanda's internationalization and Wanda will make changes to adapt to changes and drive development.
1. We will launch two overseas cultural and tourism projects. The two projects in India and Paris, which have lasted for several years and overcome many difficulties, have extremely important significance for the Wanda City brand's internationalization. We will continue to push ahead with these two projects and officially launch them this year. The financial center and the overseas center should collaborate to keep ready a number of alternative solutions.
2. We will sign a new overseas "Wanda City" project, preferably an asset-light one. The Group will offer big rewards to those securing overseas cultural and tourism projects. Although contracts have been signed for the two projects in India and Paris, land is still not secured. When land parcels are secured for them, the Group will give big rewards to the project teams. This shows the great importance the Group attached to taking Wanda City overseas. If new projects are signed in this year, rewards will be given at the standards for the previous two projects.
3. We encourage our overseas subsidiaries to carry out M&As. AMC's CEO Adam M. Aron, for example, may explore new M&A opportunities. Caution should be taken to strike a good balance and avoid confining attention to the transactions themselves and leading to a high liability/asset ratio. The capital market is very smart; they will perform rigorous analysis and assess your data comprehensively.
(VI) Drive Performance through Management
We cannot increase performance just by expansion of scale or, in particular, infinitely expanding asset-heavy operations; instead, we should try to increase efficiency by optimizing management.
1. We will effectively implement the asset-light strategy and control cost. We favor the asset-light strategy because of its higher ROI which, however, will not make sense if costs cannot be well controlled. Dalian Wanda Commercial Properties was very successful in controlling costs of asset-light projects, with all the 20 asset-light Wanda Plaza projects been developed within budget, with a few even posting a budgetary surplus. In future, signed asset-light projects should leave out allowances for internal evaluation, and higher evaluation standards should be established.
2. We will improve efficiency through streamlined management. Last year, President Ding Benxi initiated a reform of car parks and signboards and this reform alone added more than RMB 400 million to the revenue of Dalian Wanda Commercial Properties. Unlike rent or management fee that are subject to various costs, the RMB 400 million is pure profit and equivalent to the construction of four more Wanda Plazas. In HR management, which the Group did excellently as well in last year, streamlining in employee performance evaluation alone saved nearly RMB 1 billion in last year. These two examples show that as a large enterprise with a large workforce, even a light improvement in management can save enough money that a SME has to work several years to earn.
3. We will manage costs from their sources. Companies tend to manage costs from in the middle or later phase, and this is actually not correct. We should manage costs from the early phase and from their sources. Specifically, we should take four measures. The first is design management. If costs are not well controlled for creative design of theme parks or performance centers, costs cannot possibly be controlled in the middle or later phase. Therefore, I always emphasize planners, designers and creative officers as the first responsible persons for cost control. All design and creative plans must be considered with cost control in mind rather than just to please the superiors at the expense of increased costs. The second is HR cost control. This is particularly relevant as Wanda shifts to the labor-intensive service industry with increased personnel needs. How to control the HR cost? The answer is application of technological means. The third is the closing of loopholes. Serious loopholes can spell the death of even very innovative and top-performing enterprises. Therefore, we should constantly refine our system and implement system-based personnel management. The fourth is the strengthening of audit and discipline.
(VII) Build Wanda Brand Globally
Wanda today is not just a commercial business but also a cultural business committed to building a world-class Chinese brand.
1. Wanda as a movie brand: Wanda is the only company in China and in the world at large to operate cinema lines globally and to have content companies in the movie markets of China and the U.S. We are unique in many ways, and unparallelly positioned to build a strong internationally competitive Chinese movie brand. We will make efforts in many areas including co-production, global distribution and movie content to have Wanda firmly established as a global movie brand.
2. Wanda as a cultural and tourism brand: There are only three global cultural and tourism brands, and all of American brands. Wanda aims to become the fourth, and the first Chinese global cultural and tourism brand. And we will catch up and overtake in a few years. By 2025, we will have 25 Wanda Cities, including five in the overseas. Only when we become the global No. 1 in scale is it possible for us to gradually catch up in brand influence and even establish ourselves as the No. 1 brand. It is impossible to build a top brand at one go. We have to build a considerable scale first. Some people don't believe that Chinese cultural enterprises cannot compete with American ones, and this is kind of xenophilia, based on the unexamined blind belief that the Americans can and the Chinese cannot. Wanda determines to prove with action that we not only can do it but can catch up and overtake. As the Qing dynasty poet Zhao Yi said in a poem, "each age brings forth new geniuses on its noble land, and each genius will rule their own domain for hundreds of years". In the present-day world, people say that each genius will rule their domain for a dozen of years, or even three or five years. The underlying idea is the same, that new things will eventually replace old things. Wanda aims to become a new thing.
3. Wanda as an upscale hotel management brand: Among the many upscale hotel brands worldwide, there is not a single Chinese brand. Even an upscale hotel acquired by a Chinese company does not automatically become a Chinese brand. Today, Wanda hotels are in a leading position in terms of revenue in half of China's top 50 cities. World Hotel Association (WHA) has presented its Best Hotel of the World Award to Wanda for three consecutive years. Last year, Wanda became the first recipient of the Best Design Institute, given to Wanda Hotel Design Institute. Wanda Hotels and Resorts is beginning to embrace the world and has signed a number of Wanda Vista hotels in major international cities. In a few years, Wanda will increase its hotels to a dozen in the overseas and more than 100 in China, getting firmly established as a global upscale hotel brand.
4. Wanda as a business management brand: Wanda takes on its shoulders the mission to create, summarize and spread Chinese ideas of business management. Currently, business management philosophies are mostly of American origin, with a few influential ones being of Japanese origin. I believe that with the development and rise of Chinese enterprises, more Chinese philosophies of business management will have their fair place globally. Therefore, Wanda decided to publish three books on business management. The first book, The Wanda Way, expounds Wanda's unique business philosophy and has been published in four languages in the overseas with 210,000 copies in print within less than one year, indicating that it has been well received. The second book, Management at Wanda, focuses on the art of management at Wanda Group. After more than half a year's discussion, I have distilled 25 key points of management and will illustrate them using real examples to provide a clear understanding of how Wanda build world-leading execution capability. This book will be completed this year and published next year. The third book is still under development. The three books are interrelated and all relate to Wanda's business management. I believe that with the publication of the three books, Wanda will move closer to the establishment of a Chinese brand of business management.
I continue to encourage you to read more Chinese classics, and I recommend The Great Learning and The Doctrine of the Mean for this year.
The year 2016 has become a thing of the past, and been replaced by the unfolding 2017, generally considered to be a very challenging year for the global economy as well as for the Chinese economy. As a business group with operations worldwide, Wanda needs to make more arduous efforts to accomplish its tasks for this year. I hope our entire staff will keep up your good work and all companies will comprehensively meet and exceed their targets in our next annual meeting, without a single company being left behind.
In closing, I wish to express my heartfelt thanks to governments at various levels, our domestic and overseas partners, consumers and the entire staff of Wanda for all the support given to us. Without your support, Wanda would not have achieved what it is so proud of today.
In the run-up to the Chinese New Year, on behalf of the Board of Directors and management of Wanda Group, I extend an early Spring Festival greeting to all our colleagues and wish you Happy Chinese New Year. May you all prosper!
Thank you all!